Hijabs
Hijabs Clearance, everything must go! Limited Stock. Get them fast, Whilst stocks last...once it's gone, it's gone.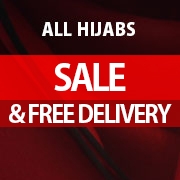 Thousands of Hijabs On HeartHijab. Hijabs are the staple of every hijabi. We have a range of the perfect hijabs for you. From jersey, chiffon, cotton, lace, viscose, pashmina and more. All at affordable prices, we start from £1! and we never stray far from £5.
Free gift is not applicable on sale items as we make a loss on these items. Sale items are non refundable.