Product Description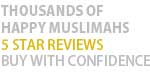 180cm Length 110cm Width
HeartHijabs 100% Viscose Plain Maxi Hijabs are super soft, breathable and lightweight. Allowing your hair to breath and oxygenate, whilst fulfilling your religious beliefs.
These hijabs are also large, allowing you to fully cover your hair and giving you plenty of room to create the style you want.
Our Hijabs are high quality without the extra premium price. These hijabs create beautiful styles, draping elegantly and flows to help you create the perfect style.
You won't be disappointed, see all our reviews, facebook page, and get a free gift when you order over £23 on hearthijab.com website, with free shipping included.
Please note that images are for illustration purposes only and colours vary from monitor to monitor.